I com­pleted the NaNoW­riMo chal­lenge in 2013, but it wasn't pretty. My month-long, pro­saic jour­ney was a study in per­se­ver­ance against myself. That Novem­ber was tough. My out­put was spo­radic and entirely too lit­tle, the novel itself often lacked direc­tion and drive, and that final day I was a ghost to every­one around me in an effort to make up for those two things.
But I did it. I com­pleted the chal­lenge. This year I did it again.
My 2014 NaNoW­riMo was a much dif­fer­ent expe­ri­ence, and I think it's best sum­ma­rized in the fol­low­ing graphic com­par­ing 2013's word count sta­tis­tics to 2014's.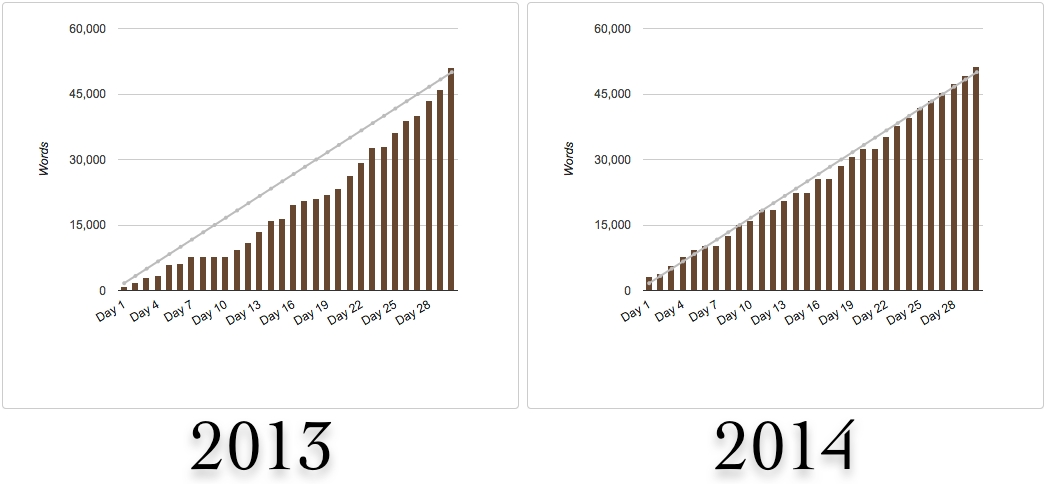 I've spent 2014 devel­op­ing a habit of writ­ing, and the much stead­ier and more con­sis­tent graph shows how that work has paid off. I try to fill my early morn­ings with writ­ing — and I am not a per­son who enjoys morn­ings, early or oth­er­wise. How­ever, hav­ing a rou­tine made this year's chal­lenge eas­ier on me and my family.
Although the rec­om­mended NaNoW­riMo word count was higher than my nor­mal, I had arranged my life to allow writ­ing time, giv­ing it a due time slot. What I was writ­ing (or how quickly) was then just a detail.
The down­side to this year's event is that my novel is still unfin­ished. From November's novel push, I went right into work­ing on our 2014 Christ­mas Card called Famil­ial and haven't been back. The novel aches in the back of my mind, wait­ing for the telling.
Thank­fully, Jan­u­ary is a good month for get­ting back into habits.